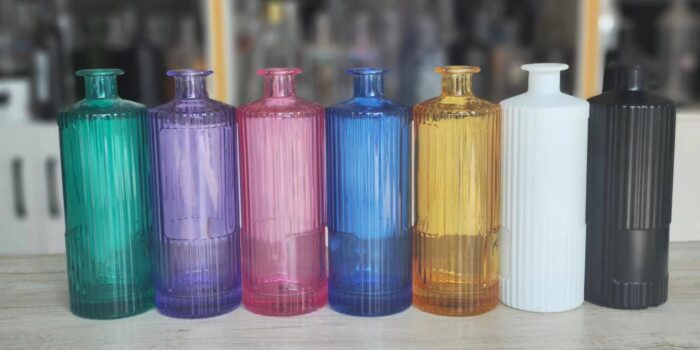 700ml Gin Glass Bottle Liquor Bottle 500ml Rum Bottle
This 700ml glass liquor bottle is specifically designed for storing and showcasing your juniper rum. Crafted with precision and elegance, this bottle is the perfect vessel to highlight the unique qualities of your rum.
The bottle is made from high-quality glass, ensuring durability and resistance to breakage. Its clear glass body allows the rich amber color of the rum to shine through, creating an enticing visual appeal. The sleek design of the bottle adds a touch of sophistication, making it an excellent choice for premium spirits.
To preserve the freshness and flavor of your juniper rum, the bottle is equipped with a cork stopper. This stopper provides a tight seal, preventing any air from entering the bottle and compromising the quality of the rum. The cork stopper also adds a traditional and classic touch to the overall aesthetic of the bottle.
With a capacity of 700ml, this bottle is suitable for storing a generous amount of juniper rum. The size is ideal for personal use or for gifting purposes. The bottle's shape and size make it easy to hold and pour, ensuring a smooth and enjoyable experience for the consumer.
The surface of the bottle is smooth and perfect for labeling and customization. Whether you want to add your brand logo, product information, or any other design elements, this bottle provides a blank canvas for your creativity. The customizable aspect of the bottle allows you to create a unique and distinctive brand identity for your juniper rum.
In summary, this 700ml glass liquor bottle is a premium choice for storing and presenting your juniper rum. Its high-quality glass construction, elegant design, and customizable surface make it an excellent option for distillers and rum enthusiasts alike. Elevate your juniper rum experience with this exquisite bottle.