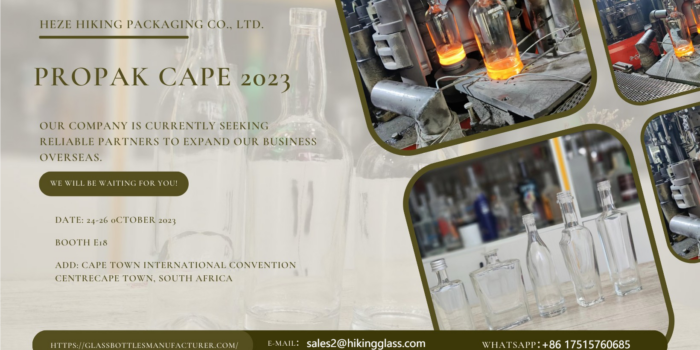 PROPACK 2023 Liquor Bottle Exhibition Glass Bottle Packaging
The Liquor Bottle Packaging Exhibition is a premier event in the beverage industry that showcases the latest trends and innovations in liquor bottle packaging. This exhibition brings together manufacturers, suppliers, designers, and industry professionals from around the world to explore and discuss the various aspects of liquor bottle packaging.
The exhibition features a wide range of exhibits, including different types of liquor bottles, packaging materials, labeling solutions, closures, and design concepts. Visitors can expect to see a diverse range of packaging options, from traditional glass bottles to innovative materials like sustainable packaging and unique shapes and designs.
The exhibition provides a platform for industry professionals to network, exchange ideas, and learn about the latest advancements in liquor bottle packaging. It offers opportunities for manufacturers to showcase their products, suppliers to connect with potential clients, and designers to showcase their creativity.
In addition to the exhibits, the exhibition also hosts seminars, workshops, and panel discussions on topics related to liquor bottle packaging. These sessions provide valuable insights into market trends, consumer preferences, sustainability, and regulatory requirements.
Attending the Liquor Bottle Packaging Exhibition offers numerous benefits for industry professionals. It provides a comprehensive overview of the latest packaging solutions, allows for networking with key players in the industry, and offers opportunities for collaboration and business growth.
In conclusion, the Liquor Bottle Packaging Exhibition is a must-attend event for anyone involved in the liquor industry. It offers a unique platform to explore the latest trends, innovations, and solutions in liquor bottle packaging, making it an invaluable resource for industry professionals.